Caring For Your Purchase
---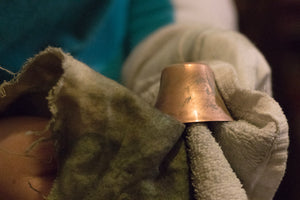 Please treat jewellery and gifts with care and respect to avoid potential damages to yourself and the pieces!
Silver
Silver jewellery can be washed in warm water with a mild detergent. Silver polishing cloths with embedded polish, which can be purchased in many homeware stores, are also a super quick and effective way to brighten up your jewellery if it begins to tarnish.
A care guide for silver pieces can be downloaded here.
Copper
Over time copper will naturally oxidise and tarnish. I like to embrace this finish, but if you wish to remove the oxidisation apply metal polish (such as Brasso) with a soft cloth and rub thoroughly onto the surface. Use a second soft clean cloth to remove any excess polish and restore high shine.  
A care guide for copper pieces can be downloaded here.
Mixed Media Pieces
Mixed media pieces are usually silver or copper combined with natural fibres and materials. To clean and care for these gently polish the metal surfaces with a soft cloth and cleaning compound avoiding the textile/non metal aspects.
If you have purchased an exhibition or one of piece and wish to have it cleaned or refurbished please get in touch! 

Repairs
I want to make pieces which are worn and loved for years, please get in touch if you'd like a piece repaired, cleaned, or altered.
If you purchase a piece from me and within a year it needs repaired within reasonable parameters, I am more than happy to help at only the cost of delivery.
If after a year, your piece needs some TLC I am happy to help for a small fee which we can discuss.